Rapid User Testing
Initiating and iterating the regular testformat Test'n'Coffee
In 2019 I initiated the organization and set up of our regular Testformat Test'n'Coffee. This had a major impact on the company's UX maturity level, as it boosted stakeholder awareness and engagement for UX related questions.
What and Why is Test'n'Coffee?
True to the motto 'Test early, test often!' we wanted to make early user feedback an integral part of the product development process. It is no secret, that most usability problems arise in the beginning of the design process and the later problems will be discovered, the more expensive they will become.

So Test'n'Coffee is a quick and easy way to test regularly, with a clear focus on usability and the (iterative) validation of test items.

Our intention was to democratize research to a certain extend and to empower and enable various roles (POs, UX Concepters, etc.) within the organization to conduct user tests themselves.
However, the user research team always supports the teams with writing the test script and the screener, arranges pretests and gives feedback on optimizations.
What did I do?
➡ Research and interviews on existing test formats for rapid user testing of other companies
➡ Obtain budget approval
➡ Casting and briefing of recruiting agencies (incl. NDA / privacy policy)
➡ Internal communications (posters, newsletters, word of mouth)
➡ Carrying out the preparatory meetings and pretests with the participating teams
➡ Complete project and organisational planning
How does Test'n'Coffee work?
➡ Happens every 3 weeks
➡ 5 participants / 5 test stations
➡ 15 min each participant (75 min altogether)
➡ Participants rotate from station to station
➡ The test stations need a clearly defined use case (as they've only got 15 min each participant)
➡ Test sessions get recorded

We iterated quite a bit on this format. Starting off meeting physically in one big conference room in 2019, we had to switch to remote testing when the pandemic arose in March 2020.

We decided to use BlueJeans and use its Breakout-Room Feature for the test stations.
Our working student is perfecting the process ever since.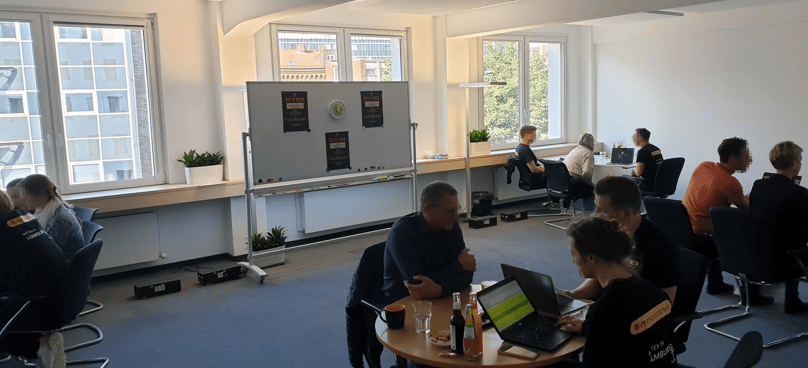 Test'n'Coffee at Immowelt Hamburg, Sept 2019
What changed testing remotely?
We found, that remote user testing has a lot of advantages, why we are sure to keep it remote, also after the pandemic.

➡ less effort (no technical set up of the room, no hanging posters, no reception of participants)
➡ meet users in their natural environment (insights closer to the real world)
➡ recruit test participants from all over Germany
Here's what Colleagues and Stakeholders say:
"At the beginning, I was very skeptical whether a format with only 5 test subjects and 15 minutes each could work at all and have any relevance. In the meantime, I am convinced that speed dating in the Test'n'Coffee format is a great method to overcome concept blindness and to initiate deeper analysis. I like!."
"Test'n'Coffee is perhaps the best innovation since the Research team was founded. With T'n'C, we have already gained hundreds of insights that have been incorporated into the development and improvement of dozens of products."